Below is the list of PC Computer and Laptop repair tools. The items described should be in every laptop repair technician's or repair enthusiast's toolbox.
The list is being continuously updated.
1. Precision screwdrivers
When it comes to screwdrivers, the best and the cheapest option (at least in the long run) is to buy the whole set of precision screwdriver bits.
You can get them from your local hardware store or from eBay.
It helps a lot if tips are magnetized, but it's not mandatory.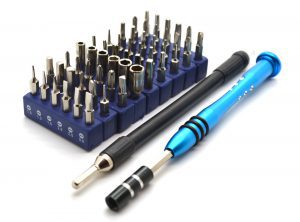 2. Tweezers
3. Small pliers
When it comes to pliers for electronics repair use, the smaller in size, the better. We should leave the larger ones to car mechanics.
4. Plastic opening (pry) tools
5. Cleaning tools
5. Safety equipment
Electrostatic discharge (ESD) can cause serious damage to sensitive electronic equipment, some semiconductor devices can be damaged by charges less than 1000 volts. 1000 volts may seem much, but note that when you feel a static shock, you are experiencing a minimum of 3000 volts of electricity. Walking across a carpet can generate between 1500 and 35000 volts, picking up a common plastic bag from a bench can generate from 1200 to 20000 volts. In electronics and chip manufacturing industry, they use anti-static flooring, ESD measuring equipment, and special ESD safe tools, they even control air humidity, but for an ESD safe electronics repair, the equipment described below and some common sense will suffice.
6. Lighting and magnification tools
Good light source and sometimes even magnification are essential for electronic repair work, especially when soldering small components, during solder joint inspection or when checking part numbers from small ICs. The user must carefully choose an appropriate magnifier for the particular job, a compromise between magnification level and a working distance. When magnification increases the working distance decreases. This can present a problem when, for instance, using high magnification tools during soldering, as magnifier needs to be relatively close to the object and thus prevent the user access to it.

7. Measuring instruments