Issue
– Short / Poor / Reduced battery life – Music playtime on the JBL Charge 3 has decreased noticeably.
– Shortly after fully charging the battery a red LED light on the JBL Charge 3 starts flashing, signaling an empty battery.
– Battery doesn't hold a charge – JBL Charge 3 doesn't turn on or turns off instantly even with the fully charged battery.
– JBL Charge 3 powers on only when connected to the charger and turns off shortly after being disconnected.
– Charging the JBL Charge 3 battery from empty to full takes less than 2 hours.
– Popping sound occurs on the JBL Charge 3 – Sound distortion similar to fabric tearing sound while playing bass-heavy music or playing at an increased volume. When listening closely it appears distorted sound comes from both speakers – drivers. Sometimes sound improves if JBL Charge 3 is connected to the charger.
– JBL Charge 3 Battery appears swollen or bulged.

We offer a battery replacement service for JBL Charge 3. Comes with a 180-day warranty.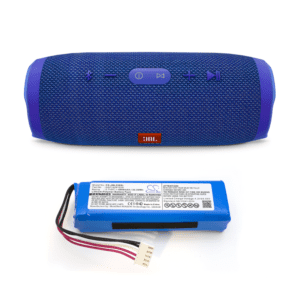 We use high-quality Lithium-Polymer 6000mAh / 22.20Wh batteries from Cameron Sino.
We measure the capacity of each battery before installing it to ensure it matches the manufacturers' specifications.