Issue
– Short / Poor / Reduced battery life – Music playtime on the JBL Charge 3 has decreased noticeably.
– Shortly after fully charging the battery a red LED light on the JBL Charge 3 starts flashing, signaling an empty battery.
– Battery doesn't hold a charge – JBL Charge 3 doesn't turn on or turns off instantly even with the fully charged battery.
– JBL Charge 3 powers on only when connected to the charger and turns off shortly after being disconnected.
– Charging the JBL Charge 3 battery from empty to full takes less than 2 hours.
– Popping sound occurs on the JBL Charge 3 – Sound distortion similar to fabric tearing sound while playing bass-heavy music or playing at an increased volume. When listening closely it appears distorted sound comes from both speakers – drivers. Sometimes sound improves if JBL Charge 3 is connected to the charger.
– JBL Charge 3 Battery appears swollen or bulged.

We offer a battery replacement service for JBL Charge 3. Comes with a 180-day warranty.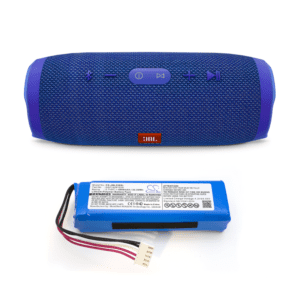 We use high-quality Lithium-Polymer 6000mAh / 22.20Wh batteries from Cameron Sino.
We measure the capacity of each battery before installing it to ensure it matches the manufacturers' specifications.
What our eBay customers say about us
Loading feedback from eBay…
Payment details:

Click here to purchase this repair service via eBay.

Procedure:

After the payment is received, we will contact you and provide the shipping instructions.
JBL Charge 3 is usually repaired and shipped back in less than 48 hours. Delivery throughout Europe takes around 4 to 8 days and a few days more to other parts of the world.
Shipping & Handling:

JBL Charge 3 will be shipped back within 24 hours after it has been repaired (Saturdays, Sundays, and holidays excluded; item will be shipped the next working day).
The carrier is Posta Slovenije; a tracking number will be provided.
Please mind that delivery time may vary due to your location, holidays, and weather conditions.
If you are outside of the European Union, additional customs fees may apply in your country, please check before ordering.
Product will be properly packaged and secured with bubble-wrap and other cushioning elements to ensure safe shipping and eliminate any damage during transport.

Warranty & Return policy:

We provide 180 day warranty on our repairs. Warranty covers repair or replacement of defective products.
We cannot refund or exchange the products which have been damaged as a result of improper use or improper handling.
Please feel free to contact us at info@getgui.com if you have any additional questions.
---