Issue
When you try to connect your Samsung Gear Fit 2 sports band to a smartphone that has less than 1.5GB of RAM for the first time, you are in for a nasty surprise; although you can find and install Galaxy Wearable application from Google Play store onto your device, it will be unable to successfully connect your smartphone and the Gear Fit 2.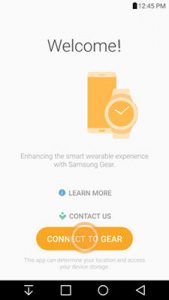 If you try to connect your Gear Fit 2 to your device manually, that is directly from phone's bluetooth settings, the phone is able to find Gear Fit 2 and even initiates the pairing process together with the "Confirm passkey xxxxxx to pair with Gear Fit 2." message. After you confirm the bluetooth pairing request, a "setting up…" text is displayed on your Gear Fit 2 watch but the process doesn't succeed. The connecting process between the smartphone and Gear Fit 2 needs to be performed from within the Galaxy Wearable app in order to be successfully completed.
The reason why Galaxy Wearable app is unable to find and pair the Gear Fit 2 with devices that have less than 1.5GB of RAM is the Galaxy Wearable app itself; the developers at Samsung enforced a minimum RAM requirement check into the app. When Galaxy Wearable app is run on the devices that have less than 1.5GB of RAM, it is only able to find and pair with Samsung accessories such as Gear Triathlon S/M, Gear IconX R/L and Gear Circle but not the Gear Fit 2.
Why did developers at Samsung impose such a limit is beyond my knowledge, since I am able to successfully connect and use Gear Fit 2 with Sony Xperia T3 smartphone (Android 4.4.4, 1GB RAM) by utilising a modified Galaxy Wearable app (I have removed the minimum RAM requirement check from the app). I have contacted Samsung on this matter, but up until this moment, I am still waiting for a more technical response, in comparison to the generic one I received, that can be seen below:
"…In order to proper functionality the Gear Fit 2 with all the purpose it was manufactured for, there are some set of requirement standards set for any phone/ Gear watch. For efficient performance the phone needs particular requirements…"
I suspect the reason for their decision is they have encountered some performance issues on some of less capable smartphones during the testing phase and decided to drop support for the mentioned devices altogether to prevent potential complaints from customers.