Issue
A friend of mine brought me this mini PC, based on a ZOTAC GeForce 9300-ITX WiFi motherboard. After freshly installing Windows 7 and all the required drivers from the motherboard manufacturer's website, I connected speakers and noticed there is no sound output from any of the analog audio jacks. This PC features three jacks on the back and two on the front panel. After opening the Realtek HD Audio Manager, I noticed that analog jacks are all grayed out, which means the Realtek doesn't detect when a device (speaker or headphone) is plugged in. I tried disabling front panel jack detection in HD Audio Manager and thus force the sound output from front panel jacks, even when device is not detected, no dice.
After trying a few more drivers; the latest driver directly from Realtek and a native Microsoft High Definition Audio Device driver, I concluded this is a hardware problem. I tried measuring audio jacks with a multimeter; no short circuits and no open connections relative to the motherboard. The fault lies in an on-board Realtek ALC662 IC chip or its circuit. I could try replacing the ALC662 IC, but since I don't have one in stock, I opted for a second best option – replacing or bypassing the on board audio chip with an external USB sound card or DAC. Since an external USB sound card sticking out of the USB port would impact the portability of this mini PC to some extent, I decided to tear it apart and connect it directly to the unused USB header on the motherboard.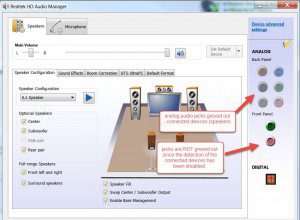 Below is a picture of the finished product – an external USB sound card or DAC, modified to fit inside of the computer case and connect directly to spare USB header on the motherboard.